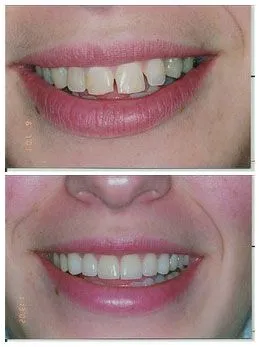 Porcelain Veneers - a Permanent Cosmetic Solution for a New Attractive Smile!!!
Porcelain veneers are extremely thin ceramic casings bonded to the front of teeth to create a new vibrant smile. Veneers correct misshaped teeth, discolorations, unsightly spaces, chipped teeth, misaligned or crooked teeth or simply correct teeth that are not cosmetically pleasing. For the majority of patients, porcelain veneers can prove to be the perfect solution
We custom design and handcraft every veneer to complement your smile. We only involve high quality dental laboratories gifted in artistry and attention to detail when fabricating something we want to last 10 to 20 years or more. We do not cut corners. The result is a beautiful, attractive new smile.
Procedure
The procedure begins with meticulously shaping the teeth in preparation for the new veneers. An impression is sent to our lab where your new restorations will be hand crafted. While the new veneers are created, we will provide you with temporary restorations to cover your natural teeth so that you can continue with your daily life without worrying about a missing or incompatible tooth.
During your next visit, the veneers will be fitted comfortably onto your teeth with every effort to ensure that they feel exactly like natural teeth. They are then bonded onto your real teeth, leaving you with a beautifully restored smile!!!
Enhance Your Smile...Change Your Life!!!